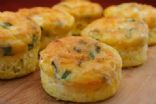 Instead of making scrambled eggs every day I wanted to do something like this and experimented and found this recipe. I love it!
6 whole eggs
1/4 cup of fat free parmesan cheese
1 tbsp olive oil
1 small white onion, diced
1/2 red pepper, diced
1/2 tsp fresh thyme, chopped
Sea salt and fresh cracked pepper, to taste
Non-stick cooking spray or butter for greasing the cupcake tin
This is the recipe I follow. But there are so many different ways to cook your eggs! You can add WHATEVER veggies you like, and WHATEVER meat. if you choose bacon, try to stick to turkey bacon. low sodium turkey is another good choice! Or if you want hamburger, try out fresh Bison instead. SOO good! you won't even know the difference once its cooked.