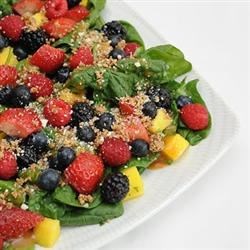 Fruit Salad!
Everyone likes their own version of fruit salads so pick what you want!
Start with Mixed greens and Spinach
Suggested fruits:
Dried mango
Sliced green apple
blackberries
blueberries
strawberries
cranberries
grapes
Additional Toppings:
Slivered almonds (cashews can be good too)
Grated Mozzarella cheese or cheese crumbles
Cottage cheese! mix in a little cottage cheese.. its so yummy.
Grilled chicken!
Dressings:
Newmans own light honey mustard.
Newmans owns light sesame ginger
Newmans own light Balsamic vinegar